AIDPATH at Connectathon – PathVision Conference, October 2017, San Diego, USA
With the FDA having approved whole slide imaging for primary diagnosis this year, one obstacle to full acceptance of digital pathology remains: lack of interoperability. To topple that barrier, the Digital Pathology Association, the CAP through its Digital Pathology Committee, and DICOM Working Group 26 convened in October, during the Pathology Visions conference, the first Connect­athon for digital pathology. Philips, Ventana (Roche), and Leica Biosystems Aperio Digital Pathology participated with their slide scanners. Pathcore and AidPath provided their viewers, and Pathcore provided its PACS. 'Connectathon' opens door to interoperability in digital pathology. Read more
El hospital de Jeréz participa en un proyecto pionero de imagen digital para muestras patológicas
Un grupo de investigación del hospital de Jerez junto con la Subdirección de Tecnologías de la Información y Comunicaciones del Servicio Andaluz de Salud y en colaboración con el programa europeo AIDPATH han desarrollado un proyecto pionero sobre anatomía patológica digital, que facilita el trabajo diario de estos especialistas. El proyecto se ha presentado en el congreso internacional 'Path Vision', que organiza la 'Digital Pathology Assosiation' en San Diego, California (Estados Unidos), como iniciativa innovadora dentro del campo de la anatomía patológica digital, ya que es de los primeros a nivel mundial que utiliza el formato universal de imagen digital médica, denominado 'DICOM'.
Diario de Jerez, 05 Enero, 2018. Read more
ConSalud.es, 05 Enero, 2018. Read more
MiraJerez.com, 04 Enero, 2018. Read more
Informatika inovatyviai medicinai ir Santaros slėnio gegužinė
Sveikatos informatikos ir bioinformatikos asociacija kviečia į konferenciją "Informatika inovatyviai medicinai. Šiandien ir rytoj." Konferencija vyks gegužės 19 d., ketvirtadienį, Jungtiniame inovatyvios medicinos centre (JIMC), Santariškių g. 5 nuo 13:00 iki 17.30 val. Po konferencijos, jei tik orai leis, JIMC pievoje įvyks antroji Santaros slėnio gegužinė. May 2016. More details
Boston May 3-5 2016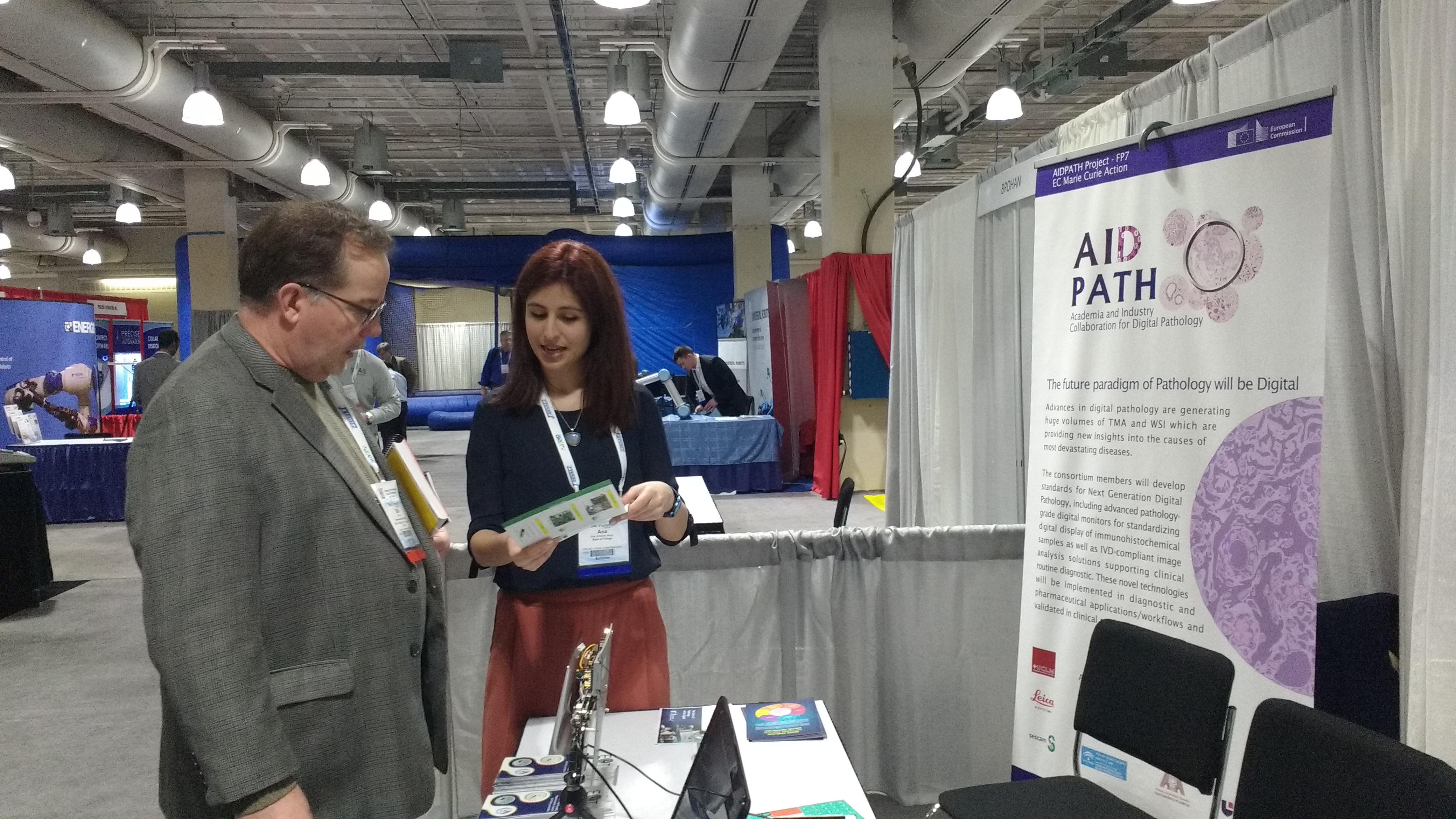 Live impressions from the AIDPATH congress on digital pathology
May 2 2016. See on YouTube
April 26-26 2016. Read more
Avanza el proyecto liderado por la UCLM de diagnóstico de cáncer
El grupo de investigación VISILAB de la Universidad de Castilla-La Mancha (UCLM) lidera el proyecto europeo Academia and Industry Collaboration for Digital Pathology, que podría traducirse como Colaboración de la universidad y la industria en patología digital y conocido por su acrónimo AIDPATH.
Esta iniciativa, financiada por la Unión Europea con tres millones de euros, persigue el desarrollo de herramientas de análisis y procesado digital de imagen e inteligencia artificial aplicados al campo de la anatomía patológica para el análisis del cáncer. September 2015. More details
Stereologijos ir skaitmeninės vaizdo analizės mokykla valstybiniame patologijos centre
Stereologijos ekspertai – Johnnie Andersen ir Jens Randel Nyengaard – iš Aarhus Universitetinės ligoninės (Danija) supažindino dalyvius su praktiniais metodais, kaip išgauti kiekybinę trimačių (3D) audinio matavimų informaciją pagal audinio 2D plokščių matavimus skyriuose. September 2015. More details
Patologijos Technologijų Galimybės Atviros Mokslo Inovacijoms
Valstybinis patologijos centras, VšĮ Vilniaus universiteto ligoninės Santariškių klinikų filialas (VPC), kartu su AidPath konsorciumo partneriais organizuoja 5 dienų kursus "Stereologija ir vaizdo analizė skaitmeninėje patologijoje". Į juos kviečiami visi, besidomintys stereologija ir patologijos vaizdų apdorojimu. September 2015. Read more
«Information Technology in Digital Pathology» – 2nd AIDPATH Project Workshop
The future paradigm of Pathology will be Digital. Instead of conventional microscopy, a pathologist will perform diagnosis through interaction with images on computer screens and performing quantitative analysis. Advances in digital pathology are generating huge volumes of whole slide images which are providing opportunities for developing and evaluating new and more effective treatments that may revolutionize care of patients. The challenge is to apply information technology and image analysis methods to exploit the new and emerging digital pathology technologies effectively in order to process and model all the data. May 2015. Read more
AIDPATH in Digital Pathology Conference, Paris, 2014
La UCLM lidera un proyecto europeo de inteligencia artificial aplicado al cáncer de mama
La Escuela Técnica Superior de Ingenieros Industriales en el Campus de Ciudad Real ha acogido la primera reunión de trabajo del proyecto europeo de investigación AIDPATH que lidera el grupo VISILAB de la Universidad de Castilla-La Mancha y el Hospital General Universitario de Ciudad Real. Con una cuantía de 3 millones de euros, el proyecto permitirá el desarrollo de herramientas de análisis y procesado digital de imagen e inteligencia artificial para su aplicación en el cáncer de mama. December 2013. More details