25th October 2017
Final Symposium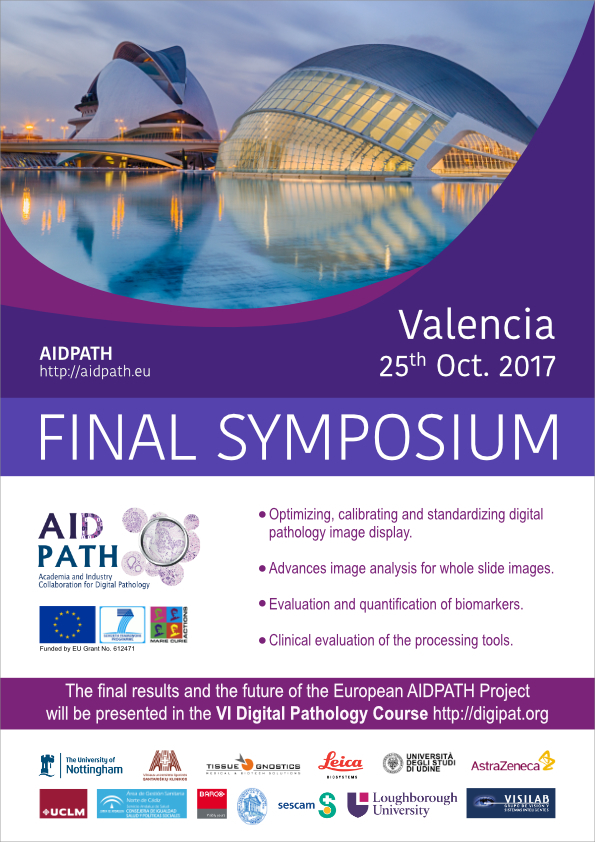 Photos >>
Organisers: UCLM, SAS, SESCAM
Place: Valencia, Spain
18th – 22th September 2017
Summer School: Molecular Diagnostics and Digital Pathology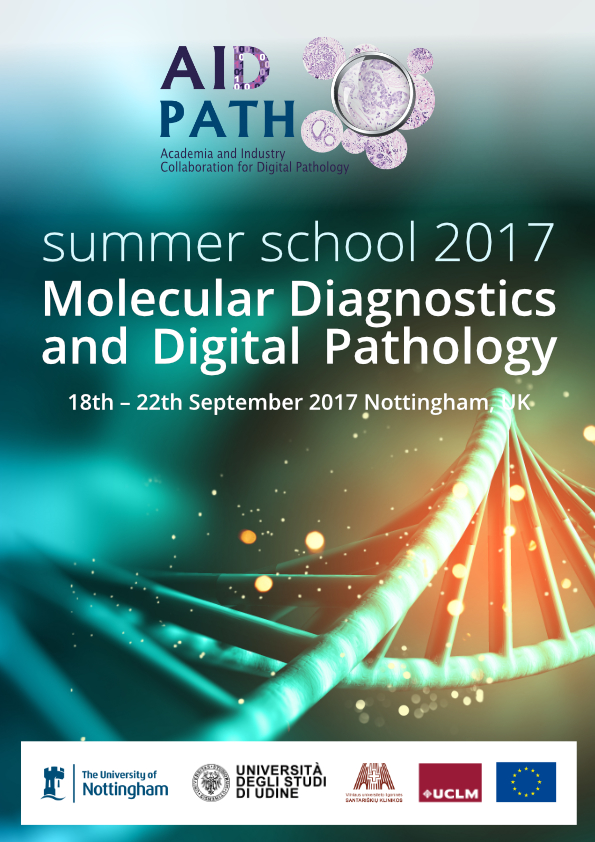 Find more information >>
Organisers: UNOTT, UNIUD, VUSHK, UCLM
Place: Nottingham University, UK
21st June 2017
8th Workshop: Digital Pathology: Cancer Microenvironment Image Analytics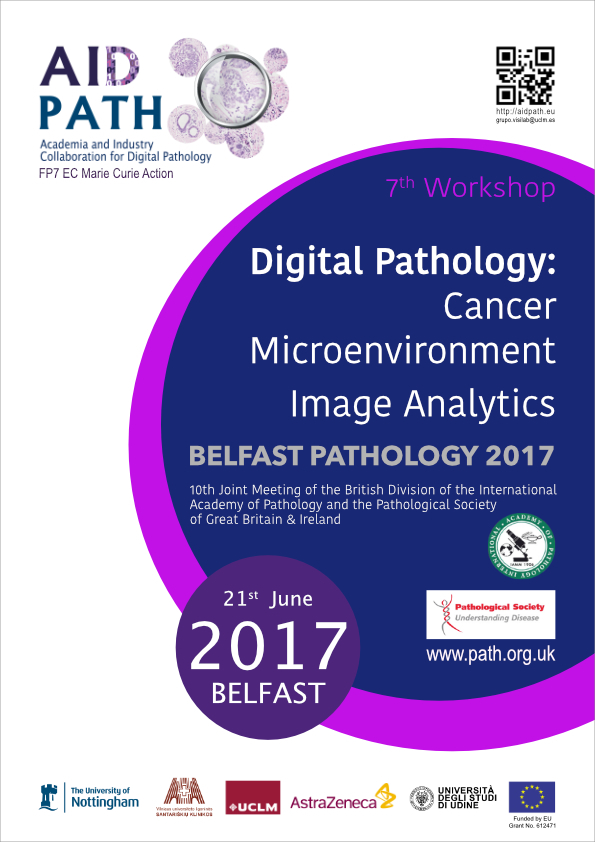 This event is a workshop within the Joint Meeting of the British Division of the IAP and the Pathological Society of Great Britain and Ireland.
Organisers: UNNOT, AZ, VUHSK, UNIUD, UCLM
Place: Belfast, UK
17th – 20th November 2016
Marie Curie NetWorks Symposium: Optics, Algos & Ice
Advanced Digital Microscopy and Image Analysis is set to revolutionize clinical diagnostics. The personalized medicine concept needs bridging of the gap between the spatial heterogeneity of tumor and other disease microenvironments and the data provided by molecular profiling and omics. The symposium "Optics, Algos and Ice" will provide insight in the state of technology and put together 4 Marie Curie Actions (MCA) on the above mentioned topic. The MCA are: CaSR Biomedicine: Calcium-Sensing Receptor: Therapeutics for Non-Communicable Diseases; ALKATRAS – ALK Activation as a Target of Translational Science: Break-free from Cancer, InCeM Research Training Network on Integrated Component Cycling in Epithelial Cell Motility and AIDPATH: Academia and Industry Collaboration for Digital Pathology.
Find more information >>
Photos >>
Organisers: TG
Place: Obergurgl University Center, Tyrol, Austria
26th – 28th October 2016
Autumn School: Course on Digital Pathology
Find more information >>
Agenda >>
Registration >>
Organisers: SAS, SESCAM, UCLM
Place: Oporto, Portugal
14th October 2016
7th Workshop: Emerging Trend – In vitro translation to the Clinic. Drug Discovery 2016
Find more information >>
Agenda >>
Photos >>
Organisers: AZ, UCLM
Place: Liverpool, UK
12th – 16th September 2016
Summer School: AIDPATH Summer School II
Find more information >>
Photos >>
Organisers: UNIUD, SAS, UCLM
Place: CRO Aviano (PN) Italy
6th – 8th July 2016
6th Workshop: MIUA in Digital Pathology
Medical Image Understanding and Analysis (MIUA) is a UK-based meeting for the communication of research related to image analysis and its application to medical imaging and biomedicine. The conference provides an opportunity to present and discuss research in medical image understanding and analysis, which is a rapidly growing subject with ever increasing real-world applicability. The conference will run a workshop dedicated to Digital Pathology conducted by AIDPATH.
Find more information >>
Photos >>
Organisers: LU, UCLM
Place: Loughbrough University, Leicestershire, UK
28th June 2016
5th Workshop: Advances in Digital Pathology. AIDPATH Project
Following the 2nd AIDPATH Workshop, the advances in Digital Pathology during the 3 years of AIDPATH project will be presented in the Joint Meeting of the British Division of the IAP and the Pathological Society of Great Britain and Ireland.
Organisers: UNOTT, TG, SAS, UCLM
Place: Nottingham University, UK
25th – 26th April 2016
Workshop: Optimizing, Calibrating and Standardizing Digital Pathology Image Display – Image Quality in Digital Pathology from Slide Acquisition to Visualization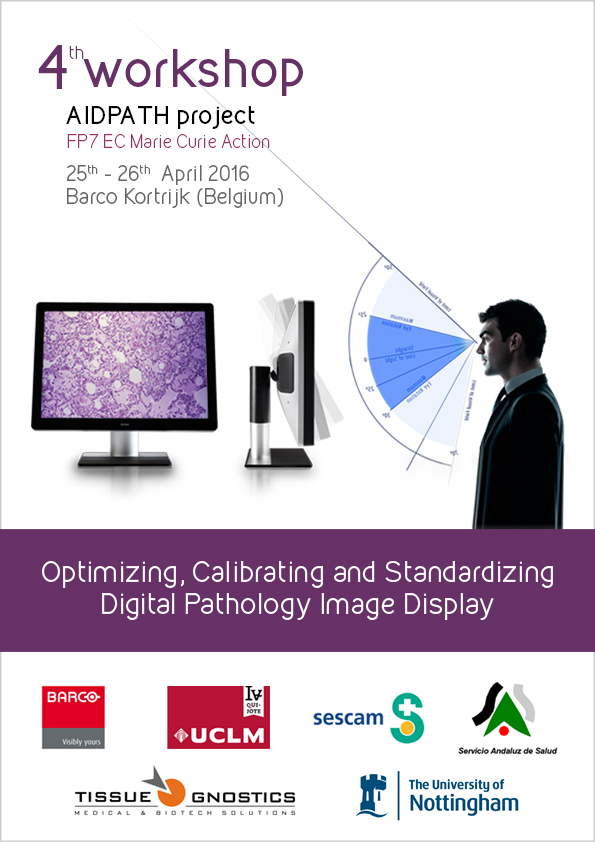 In digital pathology, pathologists will be performing diagnostic procedures through images displayed on monitors. Therefore, optimizing, calibrating and standardizing the display devices will be crucial. This workshop will discuss advances in these topics. Novel technology and perceptual evaluation studies for calibrating and standardizing medical image display devices and data for digital pathology will be shown. This will include the standard DICOM that makes possible for pathology groups to store digital pathology images compatible with the same DICOM archive systems used by hospitals to store radiological images. Moreover, different metrics for ensuring image quality and quality assurance through the chain will be analysed..
Files/presentations of the one day workshop at Barco >>
Organisers: BARCO, UCLM
Place: Kortrijk, Belgium
7th – 11th September 2015
Course: Stereology and Image Processing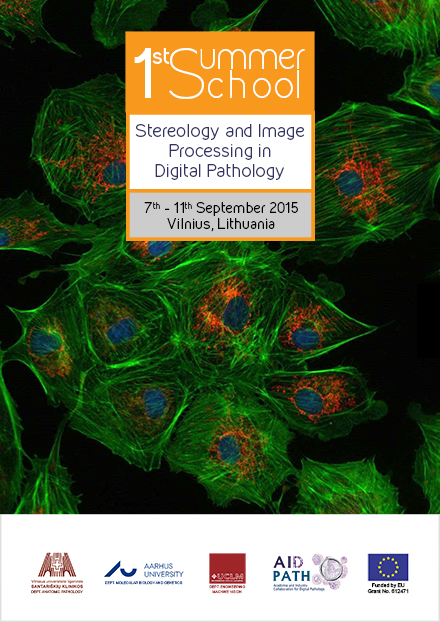 The measurement of size, shape or spatial arrangement of objects in tissue images is still a challenge. Stereology and image processing techniques shed light on this problem. Stereology is the 3D interpretation of 2D cross sections of materials or tissues. As a complement, image processing is the treatment of 2D signals to extract useful information from them. This course will show practical techniques for extracting quantitative information about 3D tissue from measurements taken on 2D planar sections of the tissue. It will also show how to describe properties of the digital images associated with the tissue, such as texture, morphological and geometrical features.

Photos >>
Organisers: VUHSK, AARHUS UNIVERSITY, UCLM
Place: Vilnius, Lithuania
23rd June 2015
Workshop: New Trends in Digital Pathology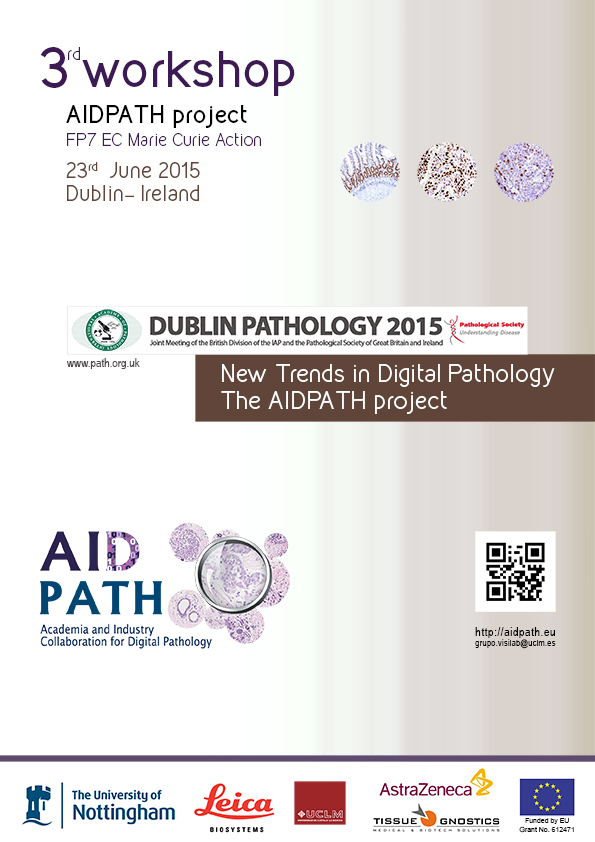 Anatomic pathology is a medical specialty where digital images systems and advanced image processing techniques play an important role. Digital pathology is a new concept that considers all uses of these techniques for diagnosis, biomedical research and education. The advances in this field and the cooperation between industry and academic achieved during the AIDPATH project will be presented in this symposium. Moreover, new trends in digital pathology by using novel techniques such as nanotechnology, fluorescence markers and mass spectrometry imaging will be also discussed.
This event is a workshop within the Joint Meeting of the British Division of the IAP and the Pathological Society of Great Britain and Ireland.
Organisers: UNOTT, LEICA, TISSUEGNOSTICS, ASTRAZENECA
Place: Dublin, Ireland
26th May 2015
Workshop: Information Technology in Digital Pathology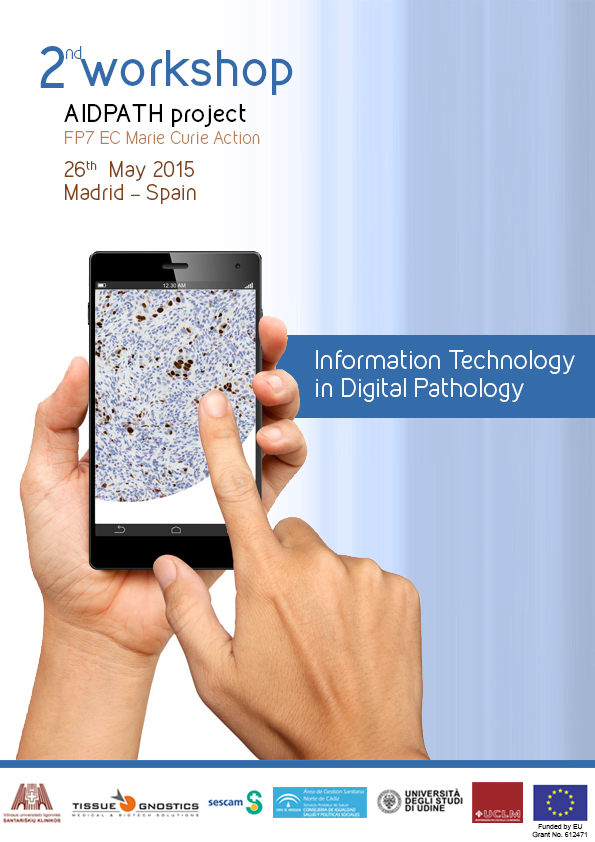 Targeting academic and industry experts working in the field of Digital Pathology, this workshop will provide the opportunity to generate and discuss different analysis methods, case study examples and procedures. This will also allow the participants to fully understand the Information Technology (IT) techniques and image analysis tools that can be successfully applied to digital pathology. The topics cover different aspects related to The European Federation for Medical Informatics (EFMI) working groups, such as, MIP (Medical Image Processing), IDeS (Information and decision Support in Biomedical and Health Care) and THI (Translational Health Informatics).
This event is a satellite workshop to (Medical Informatics Europe) MIE conference.
Organisers: VUHSK, UNIUD, UCLM, SESCAM, SAS, TG
Place: Madrid, Spain
28-30 April 2014
Workshop: Hands and Eyes on Digital Pathology I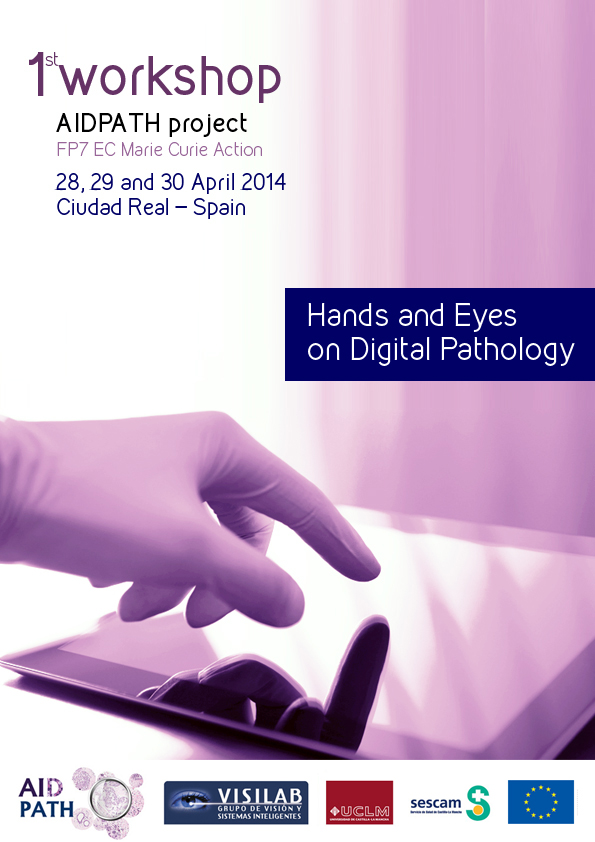 Pathology is the study of diseased tissue. It relies on visual evaluation of tissue – at both macroscopic and microscopic level – in order to identify changes which either represent a specific diagnosis or represent clinically relevant information. Evaluation is undertaken through the use of microscopy by a Pathologist who is trained to recognise specific disease patterns within tissue specimens. For over 100 years, this traditional one pathologist one microscope approach to Pathology has served the medical and scientific communities well but it is now in need of a radical overhaul. The future paradigm of Pathology will be Digital. Instead of microscopy, a pathologist will perform diagnosis through interacting with images on computer screens and performing quantitative analysis.
Organisers: UCLM, SESCAM
Place: Ciudad Real, Spain